Manali to Rishikesh Taxi
Book online oneway and round trip taxi from Rishikesh to Manali at low prices, offered by the best outstation taxi services between Rishikesh and Manali. By offering one way car rentals, himachal cab service has made taking an outstation taxi even cheaper than going by train or a bus ride. You may opt for pickup and drop from your home address, office address, Rishikesh airport, Manali railway station, Rishikesh bus stand or any other preferred location. To know more, check out details below. Approximate Distance between Rishikesh to Manali by Taxi is 541 KM.
Feel Free To Contact Us : 09816024288 : 09736524288
Himachal Cab Service is a leading online outstation taxi company for booking outstation taxis across different cities in Himachal. Started with the vision of making outstation taxi booking easier and affordable for the masses, Himachal Cab Service has been positively changing the dynamics of outstation taxi market in India. With thousands of driver partners and pan India presence, we are now providing outstation taxis service in more than cities across Himachal. With our head office in Manali, we have operations in Manali, Shimla, Spiti Valley, kaza, Chandigarh, and Delhi as well.
About Manali
Manali is an important hill station of northern India and is the destination of thousands of tourists every year. Its cool atmosphere provides a perfect heaven for the ones afflicted by the hot Indian summers. Besides offering quite a few places for sightseeing, the city is also famous for adventure sports like skiing, hiking, mountaineering, paragliding, rafting, trekking, kayaking, and mountain biking. In short, Manali is the "Valley of the Gods" and an ideal place for the ones in search of both adventure and comfort.
About Rishikesh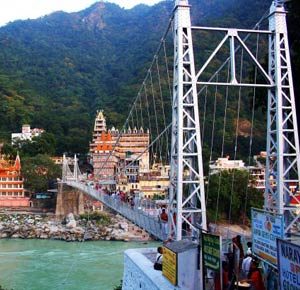 Rishikesh is located in the foothills of the Himalayas in the North of India. It is also known as the Gateway to Garhwal Himalayas. Located 25 Kms North of Haridwar and about 43Kms South East of the state capital Dehradun, Rishikesh is the 7th largest city in the state of Uttrakhand. Rishikesh, the ancient city of temples and ashrams is well known for a variety of things. Be it the serene and majestic river Ganges, ghats, ritual prayers and ceremonies, yoga schools or bristling meditation centers, it is a place where one can easily loose self and experience totality. Rishikesh is famous for Laxman Jhool and Ram Jhoola, which are two suspension bridges linking the town with the highway over river Ganges. The bridges are about 500 meters away and a beautiful sight, yes. Walking over the bridge, you can feel it vibrate and sway to the winds. The locals and children sell wheat balls to travelers, to feed the fishes in the river. Its fun. You will be amazed to see a lot of fishes swishing in the water as you throw a wheat ball. In Hindu mythology, its considered good to feed the fishes.
Get the best car booking deals and cab coupons on Manali to Rishikesh taxi service. Our dedicated customer service helpdesk is available 24×7 to help you with the best offers for booking outstation taxi from Manali to Rishikesh .